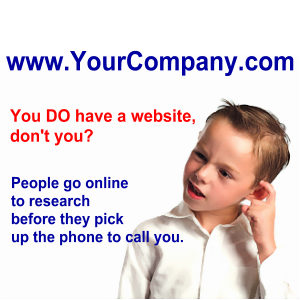 Still debating whether or not you need a website?
These pointers will help you decide.
It used to be that one had to decide whether or not the business needed a website. Today, clients and potential clients expect you to have a website, and many have reported frustration when they could not check-out a business online before calling.
In a study conducted by The Gallup Organization, nearly two-thirds of the small businesses surveyed that reported having a Web site say the Internet is important or extremely important to their business. On a scale of one to 10, they rate its importance a seven or higher.
 
Click here to visit our sister website for website design services.
 If you are still debating whether or not a website can help you build your practice, use these pointers to help you decide:
Studies have shown that research is the second most frequent reason given for using the Internet (news was first). This includes potential clients who are following up on a recommendation from a friend or professional, those wanting to know more after reading a brochure, and people who are trying to learn more in order to evaluate between choices.

 

Nielsen//NetRatings Inc. reports that Internet users go online 30 times per month (avg.), visiting up to 52 websites during the month. They spend on average 31 minutes at a website. That's dedicated time – reading about your practice and what you have to offer.

 

Internet users are almost equally male and female.

 

Your website can communicate more information than you can get into a brochure, and more than your office staff can give when answering questions on a telephone call.

 

Your website can provide information that your client may not think to ask about, but would click to learn more on when the topic is presented on a website. A FAQ section can also be used to educate your clients about your practice, or provide other needed information.

 

A website is great for providing customer support and services 24/7. Forms and other client materials online can easily be downloaded. You can make available articles, self-assessment tools, and fact sheets (to name a few) on your website. All with no printing costs.
It is said that the Internet levels the playing field. You have the opportunity to attract clients you would not be able to reach through conventional marketing means.
With a level playing field, it also means that you can lose that client to another practice that had the same opportunity as you did – and took better advantage of it.
If you don't have a website, isn't it time you got one? Your potential clients are looking for you online, and your competitors are only a mouse-click away.  What are you waiting for?
.