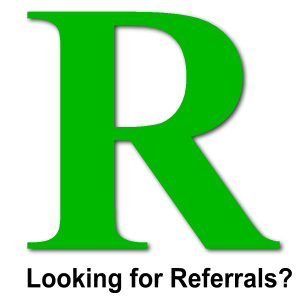 How you get referrals should be a planned part of your marketing strategy for growing your private practice.
Your secret marketing strategy is to identify referral sources that aren't already tapped out from an overload of requests from the masses.
To do this, consider less obvious referral resources. For example, everyone tends to think of lawyers, physicians and CPA's first. But what if you ARE the lawyer, physician or CPA? Where do YOU get referrals?
And even if you are not one of the above, with everyone competing to get their attention, getting a referral from these resources can be a challenge.
However, there are many professionals who are are not routinely asked for referrals because few people think to do so.
Before reading our "starter" list, follow these steps to help you prepare for determining who might be a good referral resource for your private practice:
Identify the characteristics of your target market or niche.
Get clear on what you are offering (the benefits of your service).
Be creative in answering these two questions:

Where does your market "hang out"?
Whose path do they routinely cross?
These last two questions will lead you to a list of potential referral sources. Knowing what you offer gives you a starting point for where to focus when asking for a referral.
Here is a short list of referral sources from which getting referrals may be less competitive. These professionals may be delighted to send business your way. And, they frequently work directly with the decision maker for your service.
As you read through the list, think about their target market. Which of these professionals is probably seeing your potential clients every day?
Geriatric Care Managers
Nurse Practitioners
Insurance Agents
Beauty Salon Owners
Real Estate Agents
Any professional selling benefit packages to small businesses
Interior Designers
Personal Chefs
Registered Dietitians
PR Professionals
Builders or Contractors
Here's an example:
Geriatric Care Managers work with an older population that has the discretionary income to afford their services. They often also work with the patient's baby boomer children who are likely to be the person who initiated the contact and set-up the relationship.
Both the patient and the baby boomer adult child frequently have other needs and interests including services that might come from the following list of professionals:
Attorney
Physical Therapist
Registered Dietitian
Massage Therapist
Financial Planner
CPA
Remodeling Contractor
Dentist
You can probably think of other services this group might need, including your own.
Now that you have an idea of how this works, what untapped referral resources are you putting on your list?