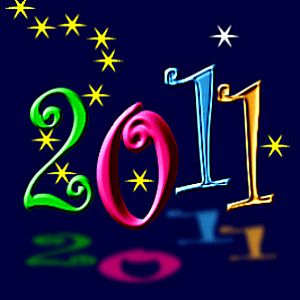 If you're like me, you are excited about this New Year that is upon us. It's a great time to assess what went well in 2010 and to make plans for an even better year in 2011.
As you know, I've spoken with many of you over the past week in the "Get Out of Stuck and Grow Your Practice" Coaching Sessions.  It has been an absolute delight for me to have met so many wonderful people with exciting plans for their practices.
2011 is going to be a great year! This last week before the New Year is one that many use for both reflection and anticipating.  If you are doing your planning this week, here are a few suggestions to make your New Year financially bright:
Set a goal for the number of clients that you want to see in your practice this year. Not just how many people you want to see each week, but how many people that would add up to in a year. Be very specific.

 

Make a decision on the primary service that you offer to your clients. I know that many of you offer a smorgasbord of services. Which one of those is your strong point? Which of them is the one you really wish you could spend most of your time doing?

 

Identify the people from whom you wish to get most of your referrals and then put into place a plan to make that happen.

 

Do a website audit to help you determine how to improve your website to be sure it's ready to attract the clients that you want and, more importantly, get those web visitors to contact you so you can work with them.

 

Learn how to read, interpret and use your Google Analytics website statistics. And, if you don't have them installed, get them installed.

 

If you don't have a website, get something up that you can add to and build up over time.

 

Figure out how social media will fit into your practice this year. Many people are using it to attract potential clients as well as for PR purposes.

 

If you haven't already done so, start thinking about using a Virtual Assistant or other forms of support to relieve you of some of the administrative burden of running a practice so that you can focus on bringing in new clients and providing your services.

 

Make a commitment to yourself to learn as much as you can about marketing a private practice and then design a marketing plan for your practice that fits your budget, your goals and your personal style.

 

Get a coach. Find a coach that you feel comfortable working with to help you grow your practice. Having someone on your team that is dedicated to working one-on-one with you to build your practice is different from belonging to a professional group that also discusses marketing.
A coach is your personal sounding board, mentor, cheer-leader, partner, confidant, accountability buddy and friend. There's a coach out there for everyone. Find the one that's best for you.
And finally, here's an extra resolution that…well, maybe it's the place that you would like to start:
Decide on your personal definition of success. Think about what success means to you in every aspect of your life.
In no particular order, consider what it means to you to be successful in terms of your beliefs, your family, your home, your friends, you business, your income, your time, your health, and any other aspect of your life that is important to you.
If you don't know what success is for you in these areas, how will you know when you are on track to achieving it?
Part of feeling good about what you are doing is knowing that what you are doing is taking you where you want to go in life. Getting clear on the path you want to travel is the first step to being happy with your choices and feeling confident about what's to come.
Now that you have read my suggestions, go ahead and get started on yours. You have my best wishes for the happiest of New Years!