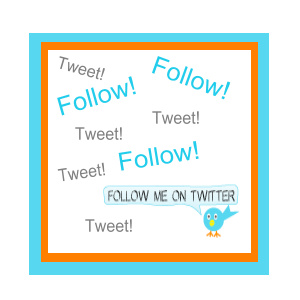 "Why would a potential client be looking for me on Twitter?" 
Truth is, they probably aren't…but that doesn't mean they won't find you and engage your services. 
In this article, you'll learn the current stats on Twitter, see examples of professionals already using it, and access a list of "do's and don'ts" for effectively using Twitter to promote your expertise as a professional in private practice.
There is so much to cover on using Twitter that it won't all fit into an article, so at the bottom you'll see a notice about an upcoming free teleclass that takes up where this article leaves off.
So, let's get started!
People use Twitter for many different reasons, including sharing resources – and that could include sharing your link with THEIR followers. 
One thing to keep in mind about Twitter is that how YOU use it – and even your thoughts on its usefulness – may be very, very different from that of a potential client.
Twitter – which has evolved into a widely acknowledged important component of company branding - is growing at a tremendous rate with over 7 million unique visitors each month.  Amongst all those people are your potential clients.
 Twitter Statistics
Before I get into the tips on how to use Twitter for growing your business, here are a few stats that help put the idea of using Twitter into perspective (stats from Nielsen).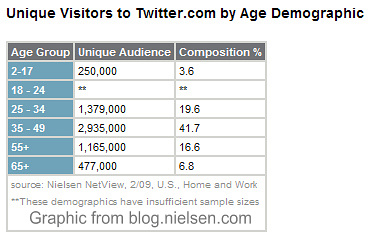 First, take a look at the chart to the right.  Twitter users are not primarily children and teens.  The 35-49 age group is the largest, followed by the 25-34 group.  And that is followed by the 55+ set.  Even those over 65 weigh-in before the kids do.  In other words, it's adults that are using Twitter.
On average, a user will visit Twitter.com 14 times in a the month, which is more often than they visit your website – assuming they know about you at all. 
Users spending about seven minutes reading and posting Tweets each visit.  This is plenty of time to see your Tweets and start to get a feel for what you have to offer…and whether or not you are someone they would like to learn more about.  It's also enough time to click a link to visit your website and follow any calls-to-action you have there as well.
Are you starting to see the potential?
People – and companies – use Twitter for a variety of reasons.  Once you get an account and become active, you will see that people are posting resources and information on a wide range of topics, mixed in with the posts about coffee breaks, children's antics and vacation plans.   It's that quirky mix that makes it so popular and it's why one person decides to follow another.
For example, there's a fire & rescue department that posts all it's calls; there are cities and towns that post events, board actions and other news; teachers are using it in the classroom; companies such as Home Depot use it to spot – and handle – customer service issues.   Dell has an outlet store that's driven by traffic from Twitter, and Whole Foods uses their Twitter account to respond to customer inquires and complaints.
Best Buy has even created an innovate term for their customer service efforts via Twitter:  The TwelpForce (a play on the words twitter and help).  They actively seek out people having problems and solve them via tweets.  As you'll see on their Twitter page, it's very effective.


But what about people in private practice, you ask?  Check out these tweeters:
Tips for Getting Started Using Twitter
to Attract New Clients and Referral Sources
If you are going to use Twitter for business, you'll want to open a Twitter account that focuses on your practice with the purpose of demonstrating your expertise. 
While you can have more than one Twitter account (each needs a separate email address), I would suggest treating ANY Twitter account that you open as being read by potential clients, even when that is not your goal.
I'll say here that I am amazed by the number of people who open Twitter accounts, list their business website and put business-related information in their bio…and then proceed to post  silly tweets that make them look like airheads.  
It's a wasted opportunity and quite frankly, not a very smart move.
Here's a list of do's and don'ts for using Twitter for business:
Do decide if your primary goal is to find clients or referral sources. You can do both, but your tweets might be a little different when your desired audience is potential clients versus referral sources.

 

Do use your real name otherwise, potential clients and referral sources won't be able to find you offline.

 

Do set-up your bio and use your 160 characters to "talk to" your intended audience.  Identify your specialty, describe your ideal client, mention your location.  Be sure to include "accepting new clients" or similar phrase. If you give workshops or talks, ask people to check your website to keep up with where you'll be via your calendar. If there is something available for download on your website, you can mention that as well.  If you offer free consults, include it, too.

 
Here's an example of what you might put in a bio: "Child Psychiatrist working with Autism. Innovative approaches. Workshop schedule on website. Accepting new clients. Corner Broad and Main."

Do provide a link to your website. If you don't have a website, use one of the free services to at least set-up a blog so you can share basic information about your practice.

 

Do make your first tweet one with impact. Talk about your practice. "I work with divorced men who are…" or say what you will be tweeting about: "I tweet on legal issues facing…"
Do tweet often, at least a couple of times a week. Compare that to people who are tweeting several times a day and you can see that a profile with tweets that are two weeks old can look deserted…and not attractive to interested followers.
 
Do be conversational with your tweets.

 

Don't post tweets that are rants or explosions of frustration. While "in the moment" they may reflect "what you are doing", others who read it two weeks later will form an opinion. Also remember that your tweets do get picked up by Google.

How do you think it will look to a prospective referral source, who is doing a little online research before deciding to refer to you, to find your tweet that says "I'm standing in the @#! line at the library waiting for the idiot receptionist to find my name in her stupid computer." Not a good impression.

Do use your posts to show your human side, but don't reveal personal information that you wouldn't be willing to stand up in a professional meeting and announce.

For example, if you are having a great time at a restaurant, go ahead and post how good the food is but leave off the fact that you're on your third martini in an hour. It might be funny to you but when it's out of context on Twitter, it just doesn't look good (some things really are of the "you had to be there" variety). 

Don't post even slightly identifying information about your clients without their permission, but do post information about your work (example: "New client today. Marriage and Family Therapy can be just what's needed to turn things around."Or, "Today I'm working with a client on how to say "no". It's a challenge we all face but with the right techniques, it gets easier.")

 

Do post about articles you've written or interesting articles you've read – and share the link.

 

Do show your expertise in a variety of ways including responding to others questions, talking about workshops you attend or present, and linking to resources on your website.

 

Do use the search feature to find people who are talking about your area of specialization and join the conversation.

 

Don't preach or post anything that sounds like "you know best".

 

Do invite people to DM you (direct message) to arrange for a private consultation. "Like to get together by phone? DM me and we'll set-up a time" or "Have you been wondering what it would be like to talk with a ____? I do free consults – DM me to schedule."

Sprinkle these invitations carefully, meaning space them out so it doesn't look like that's your only interest in Twitter.

Don't ask twice or hound anyone via DM about your services. You'll come off looking like a stalker.

 

Don't expect instant results. It takes time for people to find you, become interested in your posts and look forward to what you have to say. You're building relationships, and that's not an instant process. 

 

Do be yourself and have fun with it!
Upcoming Teleclass
Learn to Use Twitter in Real-Time
"Finding Clients Using Twitter"
Now that you have this information, let's use it! I've put together a free teleclass, "Finding Clients Using Twitter" to be held on Tuesday, August 4th.
During the class, you'll get your Twitter account set-up and start using it; plus, we'll talk about strategies and tips for using Twitter to attract clients and referral sources to your practice.
…